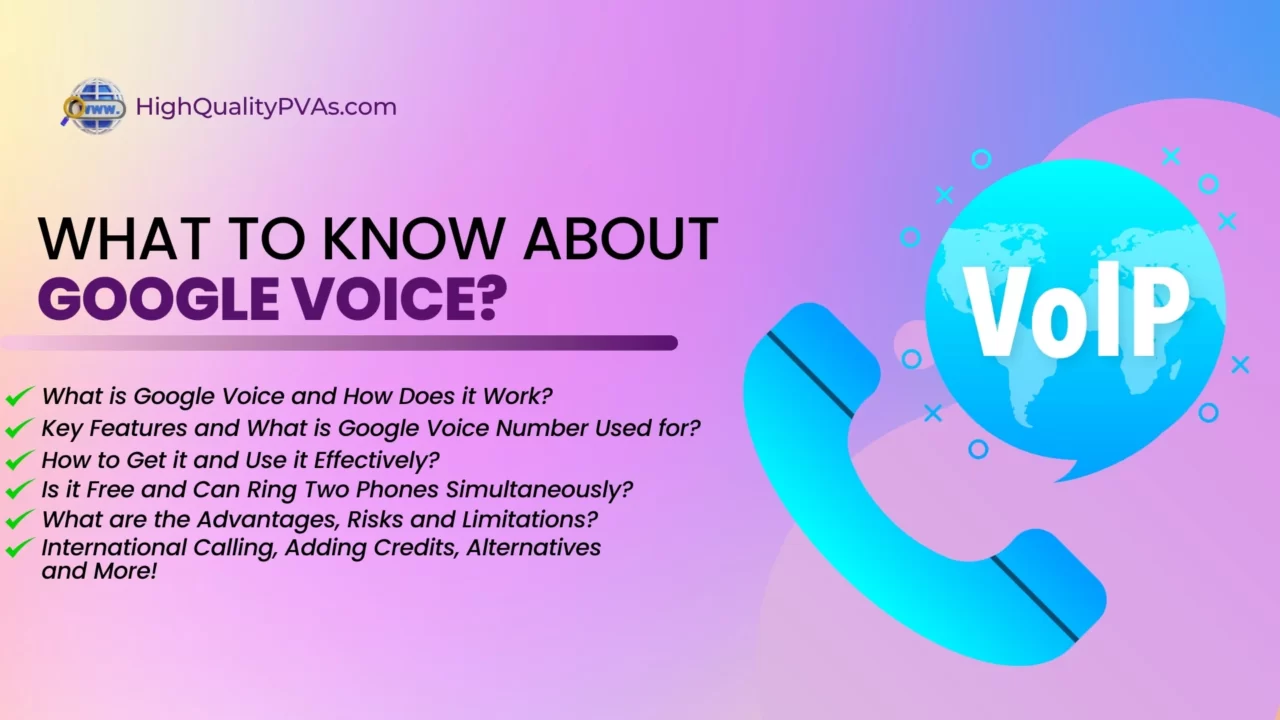 Google Voice by Google Inc. is ideal if you solely search for a VoIP service, as it is an online cloud-based telephone utility. It is best for entrepreneurs and small groups of people who need to communicate with each other via voicemail, text messages, or calls.
Google Voice's key features are furnishing clients with virtual telephone numbers, free call forwarding, free-of-cost number porting, and Google Workspace voicemails via any computer or laptop, IOS systems, android, tablet, or smartphone devices.
It is appropriate for a private business line as it gives a secure method to contact customers and clients without using your phone number.
Google Voice is a free communication service for individuals and small businesses that centralizes the users' communication in a single faucet for those who haven't known.
Without further ado, let's look at what Google Voice is, how it works, key features, what Google Voice is used for, how to get a Google Voice number, advantages, risks, limitations, alternatives and more.
What is Google Voice?
Google Voice is a VOIP virtual telephone service launched by Google in 2009 for Google account users and Google Workspace (G Suite) customers. Google offers a cloud-based U.S. phone number for PC-to-phone and PC-to-PC calls and text messaging within the U.S. and Canada free of cost, internationally and worldwide, at very cheap rates. Google Voice provides a convenient and flexible way to manage global communication.
Google Voice can work for both personal and business communication purposes. Google has enabled all services, such as Google Workspace, calling, MMS, and SMS, to be combined into one place, making it function more efficiently and quickly.
Manage communication, including receiving, answering, recording calls, blocking spam, and video meetings. Google Voice is openly available through any web browser, android and iOS devices without paying any cost.
How does Google Voice VOIP Service Work?
When you sign up for Google Voice, a question will be raised in your mind: "How does Google Voice work?" but the trust is it is straightforward to understand. When someone calls your Google Voice number, the technology routes the call to the linked numbers or devices.
If you cannot pick up a call for any reason, Google Voice can automatically route the call to voicemail. The service also provides voicemail transcription, which converts voicemail messages into text and sends them to you via email. In addition to calls, Google Voice also allows you to receive and send text messages.
Google Voice's VoIP service utilizes the internet to transmit voice and text data, allowing users to communicate using a virtual phone number across various devices. It offers a range of features that enhance call management, text messaging, and integration with other business communication tools.
What are the Key Features of Google Voice?
Google Voice offers a variety of features that allow users to manage their communication effectively. Below are some of the vital characteristics of Google Voice:
Free phone number
Call forwarding and routing
Call screening and blocking
Number porting and selection
Low-cost international calling
Conference calls
Call recording
Integration with email and messaging platforms
Text messaging and multimedia sharing
Voicemail transcription
Switch between the phones and set forwarding rules
Do not disturb mode
What is Google Voice Number Used for?
Google Voice provides a free phone number for various purposes, such as voicemail, calls, and text messages. It offers advanced features that cater to both individual and business desires. Below are some essential uses of a Google Voice number:
Call Forwarding: Call forwarding is best for travellers or if someone has multiple phones to take advantage of receiving calls and voicemails on any phone anywhere in the world.
Spam Filtering: Google Voice filters spam calls, helping avoid suspicious or unwanted calls.
Custom Voicemail Greetings: You can set up custom voicemail greetings for different groups and contacts, which gives your communications a personalized touch.
Group Messaging: You can use Google Voice number to engage in group text messaging, making it simpler to communicate with multiple contacts simultaneously.
Online Activities: You can use your Google Voice number for various online activities, such as signing up for websites and services phone number verification of social media platforms and apps without sharing your number.
Privacy: If you're concerned about sharing your private phone number, a Google Voice number can offer an extra layer of privacy and increase security.
Integration with Google Workspace: Google Voice integrates with other Google services such as Gmail and Google Contacts, making it convenient to administer your communication within the Google ecosystem.
Google Voice number offers complete privacy, flexibility, and control over your communication. With features ranging from voicemail transcription to call forwarding and personalized greetings to spam call filtering, it empowers you to streamline your communication experience.
What's the Process for Getting a Google Voice Number?
Getting or setting up a Google Voice number involves a simple procedure that facilitates seamless communication. Below is a systematic guide for "how to get your own Google Voice number?" and set up to enhance your communication experience:
Step 1: Sign in or create a Google account and visit the Google Voice website.
Step 2: Choose a Google Voice number.
Step 3: Verify the existing phone number by getting the verification code.
Step 4: Linking your Google Voice number with your existing phone number.
Congratulations! You're done. Your Google phone number is now set up and ready to use. You can start receiving and making calls, sending text messages, and managing your communication preferences.
How to Use Google Voice Effectively?
Using Google Voice effectively requires leveraging its features to streamline communication and enhance your overall experience as an individual or business owner. Yes, you can use Google Voice as a personal number or use it as a business contact number.
Let's explore why you must use Google Voice numbers for business and personal purposes.
Use Google Voice Number for Business Purposes:
If you have a small business or are a solopreneur, using Google Voice can present a more professional image to your customers. You can separate personal and business contacts, which means you will not share your number with friends and family because you use Google Voice for business purposes.
Depending on availability, you can set up your business hours and route calls to different phones. It is a perfect, cost-effective, and flexible solution for all small business owners and solopreneurs who want to use Google numbers for their commerce.
Use Google Voice Number for Personal Purposes:
Google Voice is the best option for personal purposes, including privacy protection and keeping your family numbers separate. With the help of a VOIP number, you can keep your contacts separate from your business or work contacts.
You can use one number for multiple devices for different private or individual reasons. It is a helpful tool for managing personal communications and privacy protection.
Can Google Voice Ring Two Phones Simultaneously?
Yes, Google Voice can be set up to ring two or more different phones simultaneously or sequentially when someone calls your Google Voice number. This feature is known as "Call Forwarding" or "Call Screening," It ensures that you never miss an important call, even if you have multiple phone numbers.
How to Set up Google Voice Ring on Two Phones?
Here's how you can set up Google Voice ring two phones: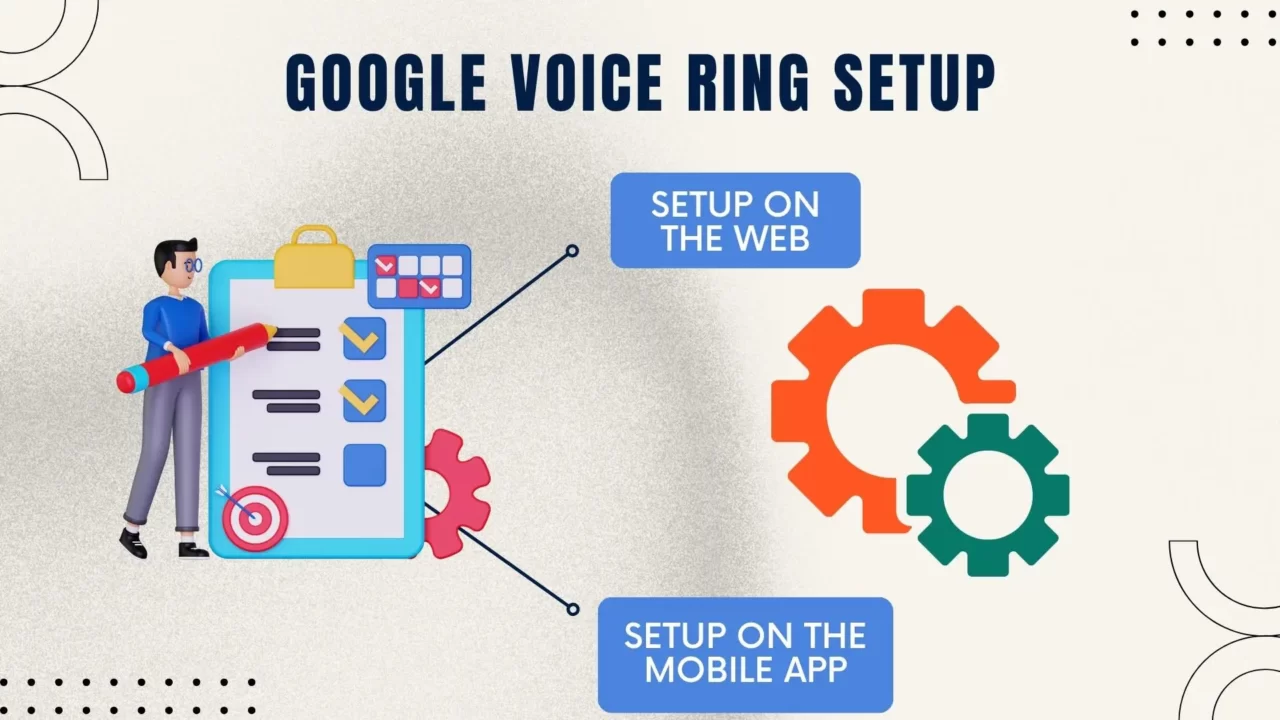 Setup on the Web:
Go to the Google Voice website.
Click the gear icon in the upper-right corner to access settings.
Under the "Calls" section, you'll find "Call Forwarding."
Click "Add a new phone" and follow the prompts to add the phone numbers you want to ring when someone calls your Google Voice number.
You can choose to ring these phones simultaneously or in a specific sequence.
Setup on the Mobile App:
Open the Google Voice app on your mobile device.
Tap the three horizontal lines (menu) in the top-left corner to access settings.
Tap "Settings."
Under "Calls," tap "Call Forwarding."
Tap "Add a new linked number" and add the phone numbers you want to ring when your Google Voice number is called.
Once you've set it up, when someone dials your Google Voice number, it will concurrently or successively ring the linked phone numbers you specified in your account settings. This ensures you can receive calls on multiple devices or phones without giving out numerous phone numbers.
What are the Advantages and Risks of Using Google Voice?
Using Google Voice offers many advantages, but like other VOIP services, it has some risks. Below are some of the key benefits and disadvantages of using Google Voice:
Advantages
✓ Free of cost phone number
✓ One number for multiple devices
✓ Make international calls at a low price
✓ Protection from spam calls and spam messages
✓ Block numbers/unwanted calls
✓ Screen calls before you receive their phone call
✓ Port your existing phone number to Google Voice
✓ Forward calls to another current number
✓ Use different voicemail greetings for other callers
✓ Access voicemail through the web interface
✓ Seamless integration with Gmail and Google Contacts
Risks
✗ There are no emergency calls feature to call 911
✗ There is no adequate Google support if you face any problems using this VOIP service
✗ Sometimes, you will face destructive technical issues of Google Voice, such as number porting issues, audio clarity issues, etc.
✗ While Google Voice provides VOIP capabilities, some users may experience dropped calls, delays, or reduced audio quality due to poor internet connection
✗ Google Voice's call forwarding and voicemail transcription features can sometimes be too intricate to work correctly
What are the Limitations of Google Voice Number?
Using Google Voice provides many benefits but also some limitations and drawbacks. Below are some rules for using Google Voice:
Google Voice may not support emergency calling services like 911 in all regions.
Google Voice's international calling and messaging are limited to certain countries, and rates can vary significantly.
Google Voice may not integrate properly with all third-party services.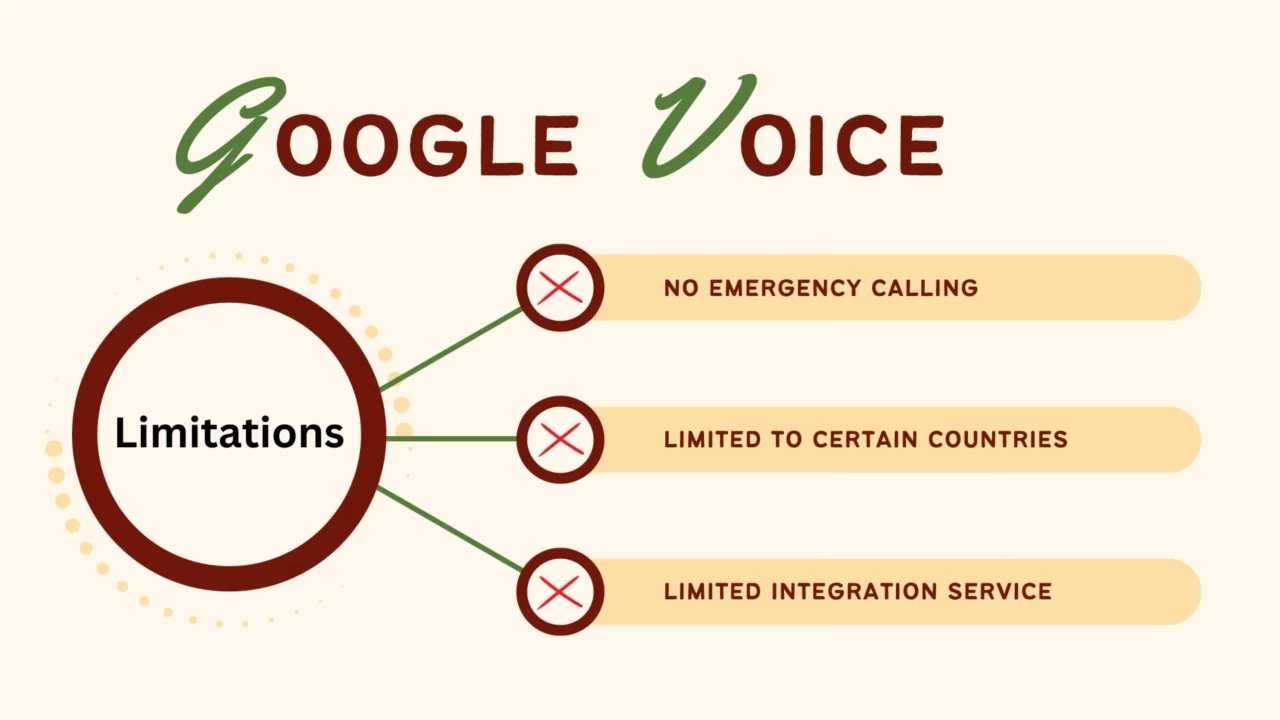 While Google Voice has some restrictions, it can still be a valuable communication tool for many users, particularly for individual use and business scenarios.
Is Google Voice a No-Cost Communication Solution?
Yes, Google Voice number is a free service provided by Google. Google Voice offers free and paid plans, so whether it is a no-cost communication solution depends on your usage and needs.
The Google Voice free plan allows users to make calls to the U.S. and Canada, send text messages within the U.S., and receive voicemail services with voicemail transcription.
Users can choose the plan that best suits their needs, making Google Voice a flexible option for personal and business communication.
Is Google Voice being Discontinued or Phased Out?
No, Google Voice will not be disconnected, but a newer, better product may eventually replace it. However, it's imperative to note that technology services and their status can change over time.
Google may adjust its product offerings and services based on evolving market conditions and user demands. Google Workspace has been around for some time and is starting to show its age for user experience.
Does Google Voice Provide International Calling Services?
Yes, Google Voice does provide international calling services. With Google Voice, you can make international calls to various countries worldwide. International calling rates differ depending on the country you are calling.
It has many features and functionalities that will help you automate your life and also allows you to set up Google Voice multiple phone numbers for your business.
If you want to start a new business or already have one and want to improve it, you should check out Google Voice.
Is It Essential to Add Credits to Your Google Voice Account for Making International Calls?
Yes, you must add credits to your Google Voice account before making international calls. It is easy to add the credits to your Google Voice account. Although Google Voice is free in the U.S., it will charge you if you make calls outside the United States. The international calls will be viable with individual subscriptions.
You must pay Google to make international calls if you already have a Google Voice account. There are different Google Voice rates for other destinations, but you can rest assured that these rates are more affordable than the rates issued by your regular mobile carriers.
What are the Pricing Details and Plans of the Google Voice Phone Number?
Google Voice offers different pricing details and plans for obtaining a Google Voice phone number. Here's a table that outlines the pricing plans and details for Google Voice phone numbers:
| Plans | Pricing |
| --- | --- |
| Free | $0 |
| Starter | $10 USD, /user/month |
| Standard | $20 USD, /user/month |
| Premier | $30 USD, /user/month |
What are Some Alternatives to Google Voice for Communication as VoIP Services?
Below are some of the alternatives to Google Voice for communication and VoIP services:
Ooma
Sideline
Skype
Line2
TextNow
Each VoIP service and messaging app has its own cell phone plans or pricing and features, so you should evaluate your needs and budget before choosing one.
In conclusion, Google isn't a telephone organization. Nevertheless, Google Voice phone numbers offer a progression of cellphone call management features intended to give users more command over when others can contact them almost free.
Google Voice provides extraordinary dependability and uphold, and if this is your main worry with changing to VoIP technology, the Google Voice phone number is the right choice for you.