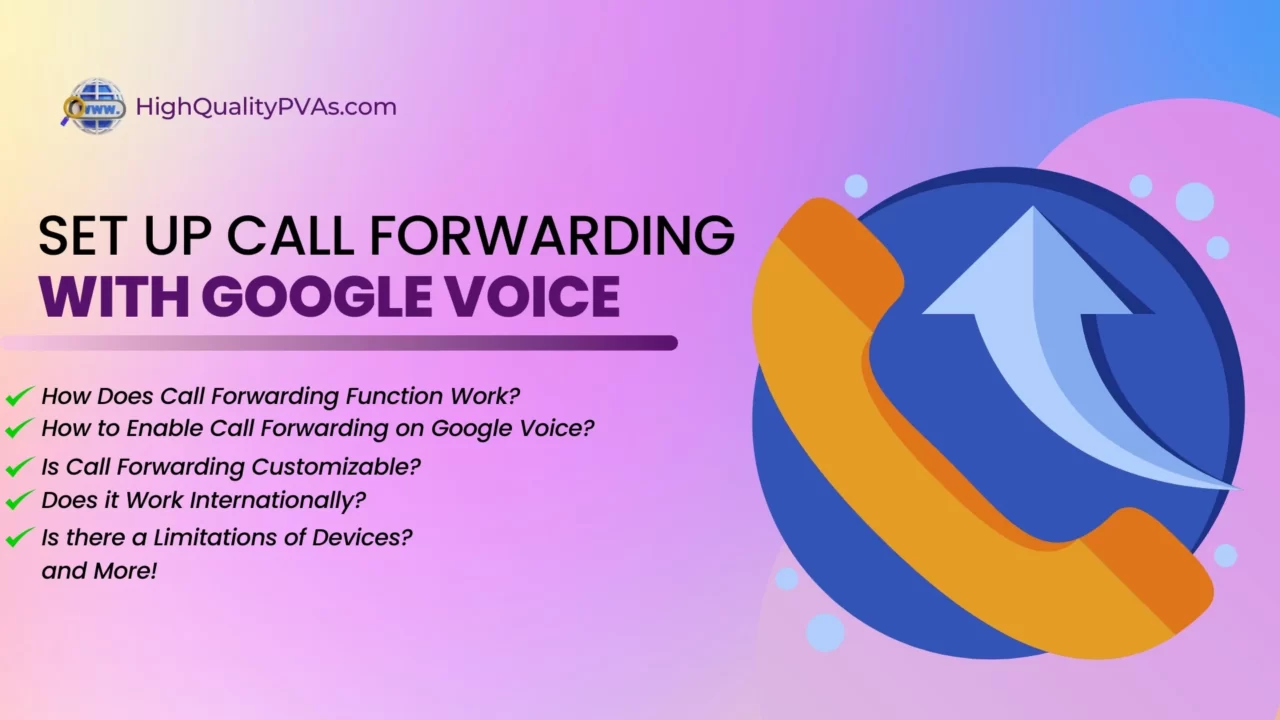 Yes, you can setup call forwarding on Google Voice and if you have been looking for the easiest way to set up your Google Voice account for call forwarding, you have come to the right place. You can set your Google Voice to record incoming calls, send SMS, send notifications through your Gmail account, record transcription, etc.
This service can help you out in a lot of different scenarios. Meanwhile, as we focus on the forwarding calls topic, you can use Google Voice to help set the situation where you can get the calls at a specific time and day.
Call forwarding is a relevant feature in the means of communication. This feature is beneficial when making such an important call, but you also use the other phone simultaneously.
The call forwarding in Google Voice allows you to direct incoming calls to another phone number as you still use your current phone number.
Below, we will show you how to setup call forwarding, how this function works, how it is possible to do it, whether this works internationally, the limitations of devices, and whether you can setup call forwarding from Google Voice to other VOIP services.
How Does the Call Forwarding Function Work in Google Voice?
Call forwarding in Google Voice permits you to redirect incoming calls from your Google Voice number to another or personal phone number of your choice.
When someone dials your Google Voice number, the service will automatically forward the call to the designated forwarding number, which could be your home phone, mobile phone, or any other phone number you have set up.
This feature ensures you always attend essential calls, even when you are not near your computer or using the Google Voice app.
You can configure call forwarding settings in your Google Voice account to suit your preferences, such as forwarding all calls only when your Google Voice number is unreachable or sending calls to voicemail if you prefer not to answer them.
How to Enable Call Forwarding on Google Voice?
To enable call forwarding on Google Voice, follow these simple steps:
Step 1: Log in to your Google Voice account on your computer or mobile device.
Step 2: Click on the gear icon in the upper-right corner to access "Settings."
Step 3: In the left sidebar, select "Calls."
Step 4: Scroll down to the "Call Forwarding" section. Here, you can check the box next to "Call forwarding options."
Step 5: Enter the phone number you want your calls forwarded in the provided field.
Step 6: Save Changes: Click "Save" or "Save Changes" to confirm your call forwarding settings.
That's it! Your Google Voice calls will now be forwarded to the number you specified.
Is Call Forwarding Customizable in Google Voice?
Yes, Google Voice offers customizable call-forwarding options. You can easily organize forwarding rules to direct incoming calls to specific devices or phone numbers of their choice.
This customization allows users to set up call forwarding and set up call recording rules for different scenarios, such as sending calls to their mobile device during the day and their home phone in the evening.
Furthermore, Google Voice provides the flexibility to toggle call forwarding on and off as needed, providing a convenient and tailored call management solution.
Does Google Voice Call Forwarding Work Internationally?
Yes, Google Voice call forwarding does work internationally. Google Voice allows forwarding calls made to Google Voice numbers to international numbers.
This means that you can receive calls made to your Google Voice number on the phone anywhere in the world as long as you have set up call forwarding to that international number in your Google Voice settings.
Remember that international call forwarding may be subject to specific rates and fees, so it's important to review Google's international calling rates and terms for precise information concerning the costs associated with international call forwarding.
Are there Limitations of Devices You Can Forward Calls in Google Voice?
Yes, there are some limitations of devices to consider in Google Voice for forward calls. You can simultaneously forward calls to up to six different phone numbers or devices.
This means you can have your Google Voice calls ring on multiple devices, making it convenient to answer calls wherever you are.
Remember that these settings can be adjusted in your Google Voice account to meet your needs.
Can Google Voice Forward Calls to VoIP Services?
Yes, Google Voice can forward calls to VoIP (Voice over Internet Protocol) services. Setting up Google Voice this feature lets you receive calls to your Google Voice number on a VoIP service, such as a VoIP desk phone or a softphone application.
By configuring call forwarding settings inside Google Voice, you can seamlessly redirect incoming calls to your chosen VoIP service, enabling you to answer calls using VoIP technology rather than a traditional phone line.
You May Also Like: What to Know About Google Voice?
This flexibility enhances your communication options and allows you to leverage VoIP's cost-effectiveness and advanced features with your Google Voice number.
In conclusion, understanding how to set up call forwarding with Google Voice can greatly enhance your communication flexibility. In this guide, we've explored the fundamental workings of call forwarding in Google Voice and detailed the steps to enable this feature.
The capability to customize call forwarding preferences, even internationally, adds to its appeal, making it an invaluable tool for businesses and individuals.
Furthermore, Google Voice's versatility extends to its compatibility with various devices, ensuring you stay connected wherever you go. Additionally, the means to forward calls to VoIP services widens your communication horizons. By harnessing these features effectively, you can ensure that calls always attain you, whether at home or on the move, enhancing your accessibility and connectivity.